home >> EURAF music >> Artists >> THE LIONS >> Artist Info (english)
presents: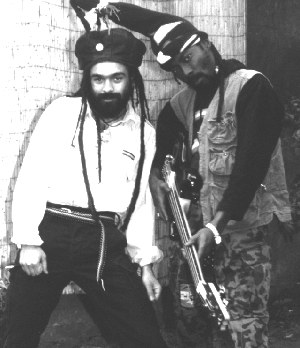 THE
L I O N S
WORLD ROOTS REGGAE
The Reggae Band THE LIONS, founded 1990 by Paps Natty General (GHANA) and Admiral Ali (TUNISIA) has developped during the years to be one of the favourite Reggae Acts in Germany and Europe.
In far more than 300 performances the band has gained a constantly growing community of fans and appreciation by the Media.
Venues like Grosse Freiheit/Hamburg, Summer Jam Festival/Wildenrath, Bongo Bongo Festival/Westerwald, Jura Hill Festival, Bob Marley Revival Festival as well as the X'mas Reggae Tour and many more marked highlights of THE LIONSī live career.
THE LIONSī third album "World Pirate", produced at BOGIEīS YARD HAMBURG by keyboardist/producer Doctor Bogarth, has been released on the EURAF label (distribution: Indigo). Meanwhile the work on the fourth Album "Taliban War" has started.
THE LIONS – the Story
When it comes to a new generation of Reggae Bands, one group based in Hamburg / Germany, will always be mentioned: THE LIONS.
The Group around the original members Paps Natty General (lead vocals) from Ghana and Admiral Ali (drums, toasting) from Tunisia has established a status as being a top act and favourite of the audience in countless shows, festivals and tours 1990 – 2005 especially in Germany, but also in Switzerland, Austria, Italy, France and elsewhere.
In 2006 too, THE LIONS will do lots of live activities and play various summer festivals.
Not only on venue stages, but also concerning studio work, much had been going on: after almost two years of working on it THE LIONSī third Album "World Pirate", a production matching international standard, was released on the EURAF label (distributed by Indigo in cooperation with Fuenfundvierzig Records).
THE LIONS – the Philosophy
"We are freedom fighters and request peace and freedom for Africa. Itīs time now to unite Africa and to unite the world. This is what we stand for. Give thanks and praise for Ras Tafar I."
In other words: "Every human being is like God / Allah / Jah Jah created him/her, and it is good like it is."
Unbelievable that just the author of these words becomes a victim of an assassination attempt on January 27th 1998. Paps Natty General is immediately transported into University hospital Hamburg-Eppendorf in a rescue helicopter. After ten hours of operation he luckily survives the attempted murder.
Instead ever since Reggae music stands for peace, freedom, nonviolence and for togetherness of all humans despite their origin and colour.
This Motto guides Paps Natty General and Admiral Ali since the foundation of THE LIONS in 1990. And along with many musicians they celebrate their songs, which could just exist by the mere power of their strong lyrics – but songs that donīt always have to have a classical Reggae Groove.
As the two front men donīt come from the Caribbean, but from Africa, this is, from Ghana and Tunesia to be exact, so that naturally this implies an African interpretation of Reggae Music, or in short: Borders are crossed.
Last not least some part of European culture is getting into this music by producer and keyboardist Doctor Bogarth. The Hamburg-located Berliner, characterized as "White Lion", provides THE LIONS can be listened to at full power in countless concerts and on CD.
For not only since the attempted murder it is obvious how important a message of peace and freedom will be, again and again.
THE LIONS: "World Pirate" – the Album
WORLD PIRATE, now the third album of THE LIONS, tells about the exploitators of this world. .After the first two "strictly roots" albums, World Pirate opens up to all sides and joins elements of World music, Ragga, DrumīnīBass, Hip Hop and Dance music. Paps Natty General and Admiral Ali sing in english, arabian and various african languages and dialects. Hence an Album was created, that has the THE LIONS combining tradition and actuality into World Roots Reggae. As said before

: "This album is like THE LIONS have created it, and itīs good as it is".
THE LIONS – line up
PAPS NATTY GENERAL

lead vocals

ADMIRAL ALI drums, toasting

DOCTOR BOGARTH "White Lion" keyboards, backing vocals
| | |
| --- | --- |
| | plus backing band & crew |
THE LIONS – discography
CREATION

CD / 1993

Fuenfundvierzig / Indigo

4567-2

JAH JAH WORKS

CD / 1995

Fuenfundvierzig / Indigo

4582-2

WORLD PIRATE

CD / 1999

EURAF / Indigo

9717-2
(translated from German to English language by Doctor Bogarth and Wolf von Kleist - special thanks Wolf!)